Digi Design E-Textile Class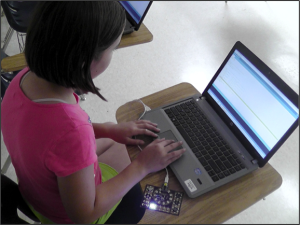 I like side projects, especially when they present challenges like teaching a group of 4th-6th graders about sewing, circuits, and coding in just 2 short weeks. In the summer of 2014 I teamed up with graduate student colleagues Gabriella Anton and Caroline Hardin to design and teach a summer e-textile class at a school in rural Wisconsin. Building on efforts to increase interest in coding among female students at the school, we made specific efforts to recruit girls for the class, but welcomed anyone who was interested in joining us.
Our first project was light-up bookmarks using cell batteries, conductive thread, LED lights, and felt decorations. The second project of the class was student-designed–we had students make something of their own design for themselves or a loved one. Final projects included a floppy bat with sound sensors, a doll modeled on one participant's mom, and brightly-lit jewelry. Some ambitious students even gave soldering a try.
We had a blast and at the end of the two weeks most of the students were better sewers–and maybe coders–than I am.